We have our own event space and can be your one stop shop
Check out or tab "The Loft at Sparks BBQ" for details
Catering Basics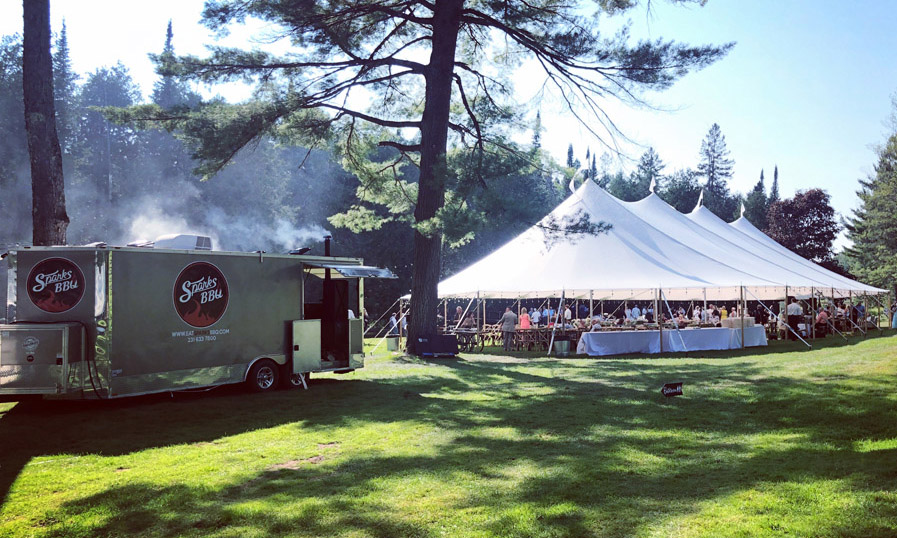 Every event we cater is just as special to you as it is to us. Due to the uniqueness of every client's needs, we do not offer standard by the plate "packages" No catering event is too big or too small for Sparks BBQ to handle, we have successfully completed events from 30 people up to 3,000 people. Past events include employee appreciation meals for hospital employees, entire military bases, large weddings, professional hockey teams, numerous graduation parties and countless corporate events. We have the quality BBQ your party deserves at prices that can't be beat.
We offer two styles of catering, Full Service and DIY catering. DIY catering is the most economical and requires you to set up, serve and clean up. Full service catering is mostly used for weddings and large functions where you won't have to worry about anything food related. Prices can vary greatly between the two and are always impacted by menu items, level of service, travel distances and staffing requirements.
Please complete the Catering Inquiry Form and we will contact you within 72 hours to discuss the details of your event and availability.
Some things to consider prior to filling out the Form
We need time to order and prepare your foods so a minimum of seven days are needed to pull off a successful event, depending on the size of your event.
Our calendar fills up extremely fast for peak season (May-October) so the more advanced notice we receive will ensure a much higher likelihood we are available to cater your event.
We can help you in estimating your food needs. We recommend that you exceed your estimates by a minimum of 10%-20% so that you do not run out of food. Every event has contingencies, or unknowns, and it's our belief that it's better to have a little extra food than not enough. We will be more than happy to help you understand how to best preserve any leftovers you may have.
*Nothing listed on this webpage constitutes an agreement by Sparks BBQ, LLC or Sparks BBQ of Grand Rapids, LLC of providing service for example prices listed. Limitations apply. Additional fees may apply.
Items We Offer Through Catering
The Meats
Beef Brisket
Slow Smoked Pulled Pork
Baby Back Ribs
Boneless/Skinless Chicken Thighs
The Sides
Creamy Coleslaw (V)(G)
Grandma's Baked Beans (V)(G)
Cornbread (V)
Sweet and Spicy Corn (V)(G)
Pasta Salad (V)
Dinner Rolls (V)
Notes on DIY Catering
When considering a DIY event you will want to take a few considerations into your planning process. Pick up timing vs. serving time is our largest concern. It is essential that foods are held at proper temperatures. We have found a good solution to this to have clients bring in a large cooler and spare beach towels. We can place hot food in the cooler, pack the remaining space with towels and seal it up. This usually buys a few hours of hot holding without any issues.
For pickup and delivery events our meats are sent in their Whole Roast forms. It will be your responsibility to slice/shred them. This is done to provide the freshest possible product to your guests. When roasts are pre sliced or shredded they do 3 things very quickly which affect quality
Cool rapidly
Change color from pink to grey
Begin to toughen losing their tenderness and smoke flavors along the way
All foods for DIY catering will be sent in aluminum foil pans and tightly wrapped with plastic wrap or in large plastic bowls with lids. BBQ sauce is sent out in easy to use squeeze bottles. None of the packaging needs to be returned, however, some can be reused if you want to.
Notes on Full Service Catering
Make your event easy and hassle free! *Minimum guest counts are required.* We typically handle everything above the tablecloth on the buffet line which includes all the plates, silverware, napkins, foods and condiments. We provide staff to serve your guests and complete our services by removing everything from the buffet line. If you choose full service we can serve up to 150 guests per hour with a single buffet line. For larger events additional buffet lines or double sided buffets would also be an option to expedite serving times.
Food Truck Events and Festivals
Would you like to have our food truck partake in your festival or large scale vending event? Our unit is completely self sufficient needing no water or power hookups. Contact us today to inquire about our availability.